Black to the Future with Statues of Our Black Heroes: Community Arts Program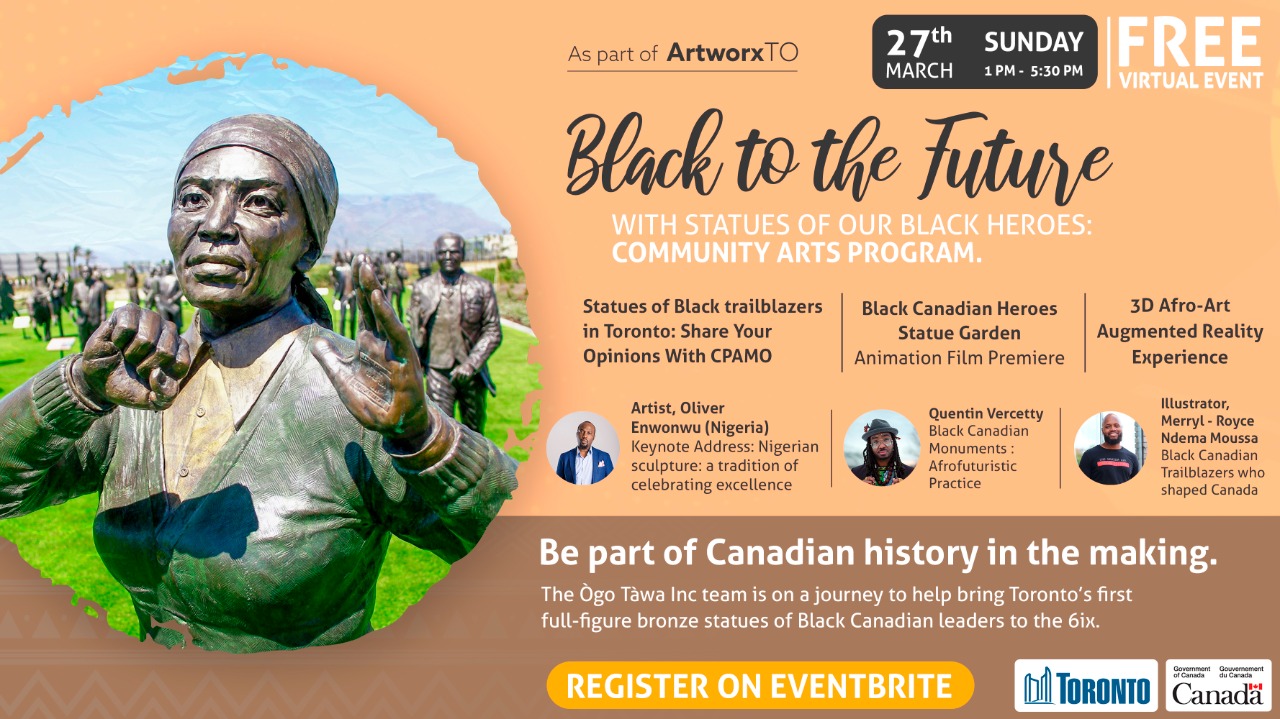 Join us as we engage community & art experts in exploring ways we could experience Toronto through statues, honoring the contributions of Black trailblazers of Canada.
Don't miss out. to Reserve Your Seat and Make your Mark on Canadian History!
What to Expect: Stay Tuned for Our Detailed Agenda| Agenda Overview Below
At this event, we will paint the vision of what emancipation of under-told Black Canadian stories would look like in a Black Future with 3D Animation, Immersive Black virtual art in Augmented Reality, and An Afro-Classical Black Lives Matter Video Premiere. Stay tuned for detailed speaker agenda. 
Join us for two fun-filled days of diverse art talks, African arts presentations,  and community conversations. Stay tuned for a detailed agenda to select activities you don't want to miss. 
Learn about our Program 
Be part of Canadian history in the making. The Ogo Tawa Inc team is on a journey to help bring Toronto's first full-figure bronze statues of Black Canadian leaders to the 6ix. And we've invited the top experts from Africa and Canada to show us just how to get this done. Ogo Tawa with support of  ArtworxTO: Toronto's Year of Public Art 2021-2022 initiative is excited to present the excited for the "Black to the Future with Statues of Our Black Heroes: Community Arts Program" event that is set to take place on Saturday, March 26, 2022, and Sunday, March 27, 2022. 
Black Artistic Representation in Public Spaces Matters
This 2-day event is going to be the art experience you did not know that you needed!!  You will engage in a renewed conversation on the role of the arts in making and reclaiming public spaces with statues to reflect Black Canadians' leadership and sacrifices towards improving all our lives as Canadians. 
Be Guided by African Intelligence
Art experts based in Africa and Afro-Canadian art experts will share their experiences about the ways in which Statues of Black trailblazers have empowered communities, nations, and generations. We'll learn about the close ties of African statue art to West and South African heritage and culture practice across centuries.  We'll understand how to uplift our Toronto society with brilliant bronze statues that celebrate phenomenal and jaw-dropping tales of Black Canadian leadership.
Speak Your Truth
Who should we commemorate with statues in the Black Community? Why does this matter to you? How can statues of Black leaders impact anti-Black racism, and perceptions of Black communities by non-Black communities? Join this event to tell us!
Our journey is incomplete without public input. A cornerstone of this event is engaging in community dialogue as we dream up our future Black Toronto where Black people's stories and contributions are remembered for generations to come with monuments made by Black Canadian artists. These monuments would demonstrate Black leadership, sacrifice, and perseverance in ways that motivate all Canadians. 
Agenda Overview
 Feel inspired by talks with Black Art Leaders based in Africa and Canada on powerful usages of African monuments globally and their ties to African heritage 

Have your say regarding the worth of creating permanent public art statues of Black Canadian leaders in Toronto so we can share your views with decision-makers

Take part in an immersive Augmented Reality experience that brings Black art and statues to the comfort of your home 

Experience the premiere of our Black to the Future Animation Short that showcases our possible Black future in Toronto with bronze statues of Black Canadian leaders ·       

Learn how you can be a partner that helps our society overcome

anti-Black racism through permanent public art

that

celebrates Black leaders

                                                                                                                               
Supported By: